Sunday Morning Bible Classes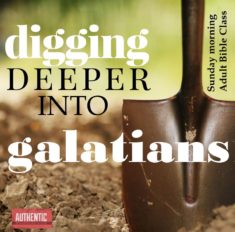 Digging Deeper into Galatians:
As a letter that was written to a church in Galatia a couple of thousand years ago, does it still have relevance today? Absolutely. Digging Deeper into Galatians will explore all the pieces of practical wisdom and useful guidance this great book has to offer. This adult class will be lead by Jeff and will meet in the auditorium. This class will also parallel with the sermon series on Galatians that will be starting April 28th.
Witness to the Truth:
When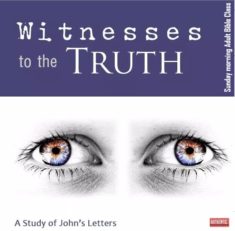 there is a good story to tell and you are an eyewitness to the great story, there is a lot to be told. John takes this opportunity in his letters in the New Testament. What did he see? How did he interpret it? Come dive into the power of being able to witness first-hand the truth of who, what, and why Jesus was who He was. This exciting dive into John's letters will be co-taught by a number of teachers including Brad, Rusty, Craig, Tye, Jim, and more. Join this exhilarating view of John's books in the fellowship hall.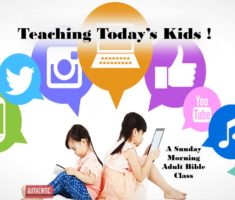 Teaching Today's Kids… a 5 week class! (April 28th – May 26th)
We all know that kids grow up way too fast for our comfort. It seems now, more than ever, kids are learning more, doing more, wanting more, saying more, and hungry for more knowledge than ever before. How do we teach today's kids that are so in tune with electronics, social media, and who are accustom education in today's school environment the foundational truths of the Bible? In this 5 week long special class, Leah and a handful of other educational experts will be joining the panel to demonstrate and equip today's adults with tools and tricks of how to reach, teach, and educate today's kids. This class is open for all adults in the Kids' Praise Room.
Wednesday NIGHT Ladies Bible Class
All ladies of the congregation are welcome to come together to open the scriptures and dig into God's Word every Wednesday night at 6:45. We have developed beautiful relationships in this group and look forward to newcomers joining in. We are in a series of lessons by Cynthia Heald. "Becoming a Woman of Prayer" was an excellent study we just finished, currently in "Becoming a Woman whose God is Enough."